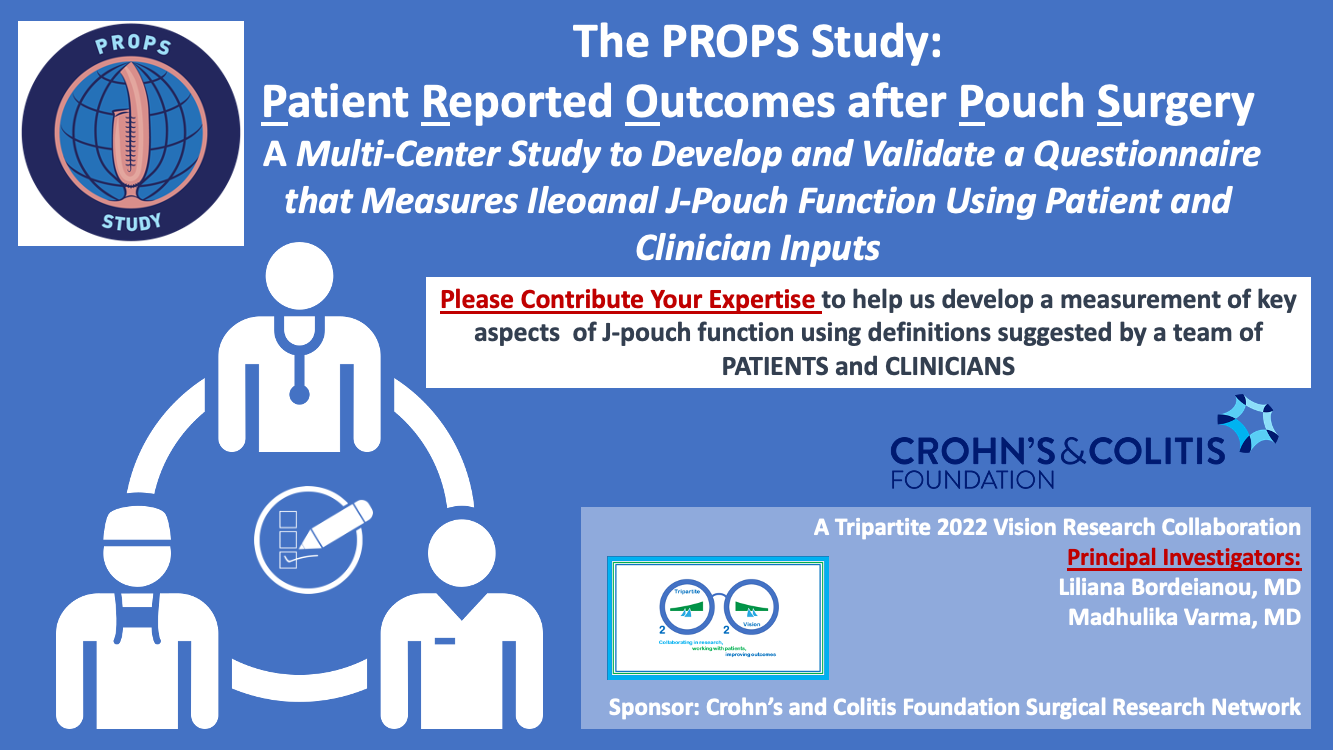 PROPS (Patient Reported Outcomes After Pouch Surgery) Study: Looking for Volunteers!
Thank you for your interest in our study!
We are developing a standardized patient questionnaire that will help clinicians understand how J-pouch surgery has affected the everyday lives of patients. We are asking people who have had J-pouch surgery for inflammatory bowel disease (ulcerative colitis or Crohn's disease) to take part in this study. Any patient with inflammatory bowel disease (ulcerative colitis, intermediate colitis, or Crohn's disease) who has had an ileal pouch-anal anastomosis (IPAA) procedure to form an internal ileal pouch (e.g. J-pouch, S-pouch, W-pouch) and has had their ileostomy reversed more than 3 months ago. It does not matter if you had complications after your surgery, however you are not eligible for this study if your pouch has been removed. Additionally, if you have a Koch pouch (continent ileostomy) you are not eligible for this study. We aim to include at least 200 patients from across the country.
What will be involved?
If you choose to participate, you will be asked to complete one web-based questionnaire, and possibly a second one a few weeks later. Each of these questionnaires should take roughly 20 minutes to complete and will ask you about various aspects related to your pouch function and quality of life. All of your answers will be stored securely with password protection. Please note, if you live outside of the United States you will not receive a second questionnaire.
How do I register?
If you would like to participate in this study, please fill out the opt-in form below. You will then be taken to a short survey about your history of IBD and pouch surgery.
Please note that your participation is completely voluntary, and if you decide to participate you may withdraw at any time. Your decision of whether to participate in this study will not affect your medical care now or in the future.
If you have previously participated in the PROPS Delphi Study, you are welcome to participate in this next phase of the PROPS Study.
You have selected an option that triggers this survey to end right now.
To save your responses and end the survey, click the 'End Survey' button below. If you have selected the wrong option by accident and/or wish to return to the survey, click the 'Return and Edit Response' button.