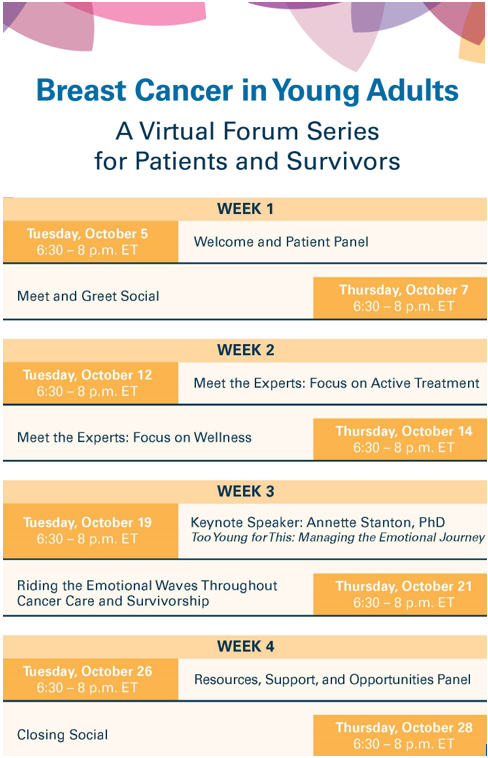 RSVP for Young & Strong's 2021 Virtual Forum Series
We're thrilled that you're interested in Young & Strong's virtual forum series! Young and Strong, the Program for Young Adults with Breast Cancer (anyone diagnosed under the age of 45) is pleased to host a variety of events to learn and connect. Please review our schedule of events, noted above.
Each event has something unique to offer. Our hope is that you'll join us for all eight events. However, please know that we understand that you may not be interested or available for each event. In this case, please select the events that are of most interest to you.
**Please note, our Social Work led event on Oct. 21st will have a special breakout room for caregivers. Please be sure to share this opportunity with your family members, relatives, and trusted friends who are also committed to helping you with the day-to-day challenges of cancer.**
We look forward to spending this time with you-- learning and building new relationships. If you have any questions about this forum series, please email: youngandstrong@partners.org
You have selected an option that triggers this survey to end right now. To save your responses and end the survey, click the button below to do so. If you have selected the wrong option by accident and do not wish to leave the survey, you may click the other button below to continue, which will also remove the value of the option you just selected to allow you to enter it again and continue the survey.
The response has now been removed for the last question for which you selected a value. You may now enter a new response for that question and continue the survey.