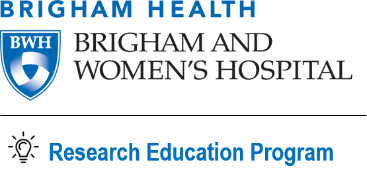 Registration | Introduction to Clinical Research Resources at BWH | September 18, 2020
Course Directors: Tanya Laidlaw, MD & Lindsey Robert Baden, MD
Introduction to Clinical Research is typically an intensive day-long course that covers the fundamentals of clinical research and introduces the wide variety of resources available at BWH and MGB. This year, since we're holding the course virtually, we will have an abbreviated half-day version of the course: Introduction to Clinical Research Resources at BWH.
Target Audience: This course is intended for new and junior faculty, post-doctoral fellows, and advanced residents who would like to better prepare themselves to design and conduct their own clinical research studies at BWH. We will also welcome others in the BWH community who are interested in learning about clinical research.
Date: Friday, September 18, 2020
Time: 8:00AM - 12:00PM
Location: Virtual (Zoom)
The DEADLINE to register is EOD WED, SEP 16, 2020.
You have selected an option that triggers this survey to end right now.
To save your responses and end the survey, click the 'End Survey' button below. If you have selected the wrong option by accident and/or wish to return to the survey, click the 'Return and Edit Response' button.